On May 12 & 13, 2001, we reunited some of the people who have sung, played and recorded with me over the past 25 years. There was a weekend of events which included a reunion, rehearsals and a concert held at the Rio Theatre in Santa Cruz. Click here to read Bob's Not-So-Brief History and Reflections of his work.
Saturday, May 12, the Bob Reid Reunion -- a gathering of former "kids" who sang with Bob in classrooms, at school assemblies, on his recordings, at the radio station, as well as parents and teachers. We sang, reminisced about the old times, did some interviewing for a video documentary of Bob's work, rehearsed for the concert on Sunday, and just plain had a great time.
Sunday, May 13, the Bob Reid Reunion Concert at the Rio. Joining Bob on stage were singers and musicians who worked on his recordings and in concert, as well as the kids, past and present, who have sung with Bob over the years.
Even if you couldn't make the reunion or the concert, we still want to hear from you! If you are a former kid, parent, or teacher please fill out our Reunion Contact Form, where you can tell us what you remember and what you've been doing. We'll be posting comments here on our web site for everyone to enjoy.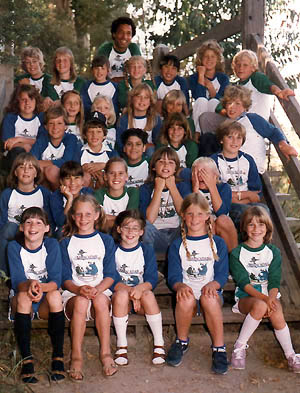 Bob Reid and Abracadab, 1985
---
We will be making a video documentary of this event to include interviews with those who have something to share about the value of my work in their lives. I have had many encounters with people I first met as children (some of whom are now parents of children in my classes) and realize that something important happened in our time together. I would like to better understand this. I will use the opportunity of the reunion concert to gather interviews with those willing to share their experiences.
Share your experiences by filling out our Reunion Contact Form, or by contacting us (click the "Contact Bob" link at the bottom of this page).